Coffee of the Araku Valley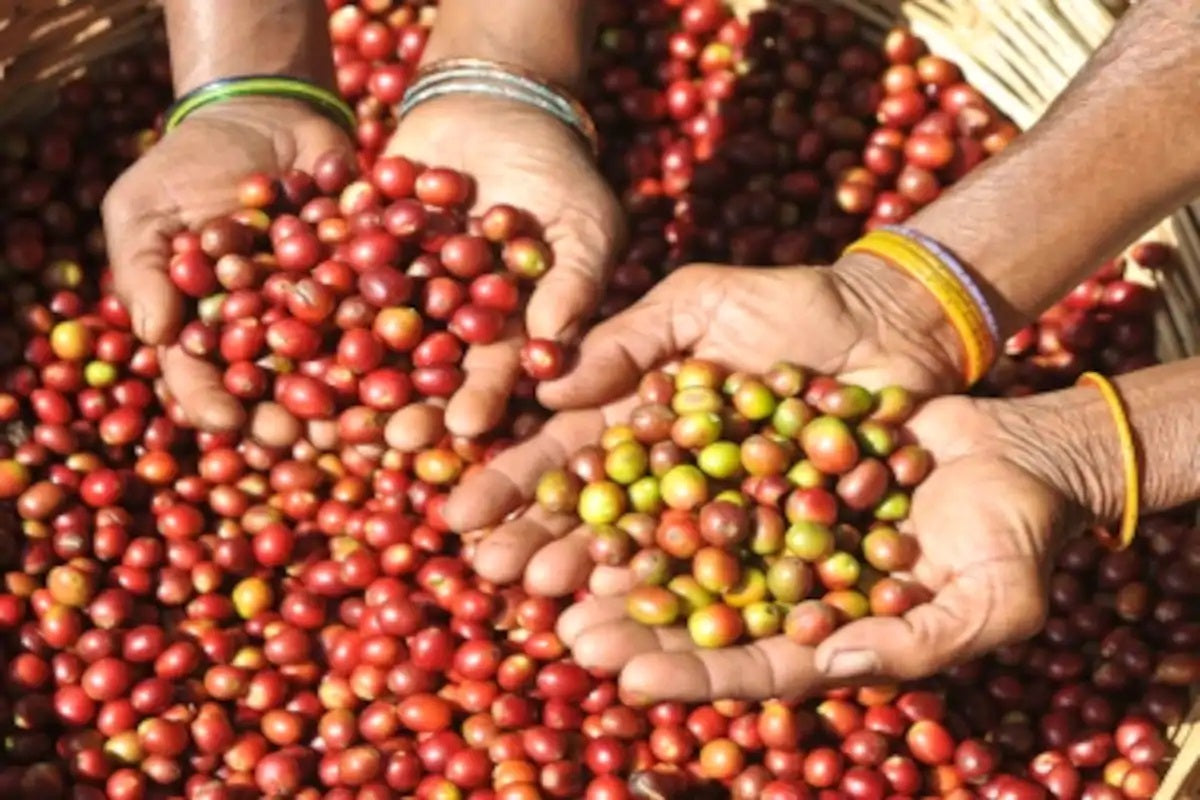 Nestled within the hills of Andhra Pradesh, India, the Araku Valley boasts rich cultural heritage, dappled with beautiful landscapes, alluring botanical gardens, and, most importantly, coffee plantations. Tourists frequently travel to this hidden gem of India to explore hill stations, beaches, caves, and even waterfalls. Perhaps some measure of the modern day appeal is in part, due to the award winning coffee grown and produced by local indigenous people. In order to learn about what makes this particular variation of the Arabica bean so special, one has to go back to the beginning.
Coffee plantations were first introduced to the Araku Valley hill station of India in the late 1800s, through the actions of an individual from Great Britain. His mission was simple, and focused mainly on the idea of growing coffee naturally in a cooler climate, at a higher elevation. Nowadays, the individuals who tend to Araku Valley coffee plantations continue to utilize the method of planting pepper inter-crops, which creates a melding and transformation of flavor – resulting in a rather tasty cup of coffee. This seemingly insignificant coffee plant is the second most valuable traded commodity, in an industry that generates more than $32 billion per year with an annual 20% increase. Why is that important? For severely impoverished indigenous communities, your next cup of coffee empowers them to expand their plantations, educate themselves on improvement of growing practices, and more.
Because Araku Valley coffee is grown at a higher elevation, in a cooler climate, it is allowed to grow naturally without the use of pesticides. While chemicals and pesticides may be the last consideration as you sip on your morning brew, these additives can have a big impact on the overall quality and taste of your coffee. When coffee is allowed to grow as nature intended, in an environment where pests and disease cannot thrive, the end result is something magical. By utilizing natural growing methods, beneficial insects are encouraged to multiply which, in turn, produces more resistant, healthier plants. Because Araku coffee is shade grown, a canopy of trees provides natural mulch, and conserves water by decreasing the need for irrigation. Once the tree sheds its leaves, they fall to the ground and become a type of mulch. The natural process of decay provides the coffee plants with a safe, natural fertilizer which promotes overall growth, nourishes the local environment, and allows chemicals to be avoided.
Unfortunately, it is a common practice for conventionally grown coffee to be heavily sprayed with synthetics, fungicides, insecticides, and more. These products not only lead to major health complications, they also have negative, irreversible impacts on the environment as a whole. Severely processed coffee carries various side effects, as well as the presence of mold when they've been processed improperly. In the case of mold growth, mycotoxins can grow on the surface of coffee beans which ultimately leads to cancer, kidney disease, hypertension, and more. For individuals who regularly enjoy coffee throughout the day, investing in healthier coffee choices, such as Boomi Coffee, which benefits impoverished villages, leaves a positive impression rather than a heavier carbon footprint.
Taking the remote nature of Araku Valley's location into consideration, as well as the cost of the labor involved, it's a wonder individuals outside of India have been blessed with the opportunity to enjoy even a single sip. This is where Boomi Coffee became the champion of coffee lovers alike. By offering their premium instant coffee, Boomi Coffee bridged the gap between a largely unknown state within India, and the rest of the world. By connecting remote plantations with coffee enthusiasts across the globe, impoverished tribal farmers now have the opportunity to share in their livelihood. Because of Boomi Coffee's sheer dedication to natural coffee, average people have come to enjoy their first taste of Araku Valley coffee – a flavorful trip around the world.
Are you ready to mix up your morning routine? Boomi Coffee helps the Araku Valley tribal farmers by offering Araku Valley premium instant coffee, as a quick way to start your morning off right. Touting a near perfect coffee grading score, Araku Valley coffee has earned its rightful spot in many a kitchen cupboard. Boomi's instant coffee is made from ethically sourced, naturally shade grown, organic coffee beans straight from the valley of Eastern Ghats of India. This exotic Arabica variation is organic, free from additives, and bursting with flavor. There are a few ways in which Boomi Coffee's instant Araku Valley coffee may be enjoyed. Whether you appreciate basic instant coffee, instant iced coffee, blended instant coffee, an instant latte, or even the famous Dalgona whipped coffee, you're sure to discover the perfect method for you.
Now coffee lovers of all styles can enjoy the opportunity of supporting the hard working Araku Valley tribal farmers, with Boomi instant coffee. Each purchase goes to support the education, growth, and expansion of local Araku Valley tribal farms. Boomi Coffee instant Araku Valley coffee is sold on the shelves of a variety of Indian grocery stores across the nation, including Walmart online. And, for individuals who enjoy the ease of online shopping, Boomi Coffee is also just a click away – available online at Boomi's shop. Whether you are interested in supporting indigenous coffee farmers, enjoy premium natural instant coffee, or both, Boomi Coffee is the ideal combination of aiding hard working tribal coffee farmers and tasty coffee.